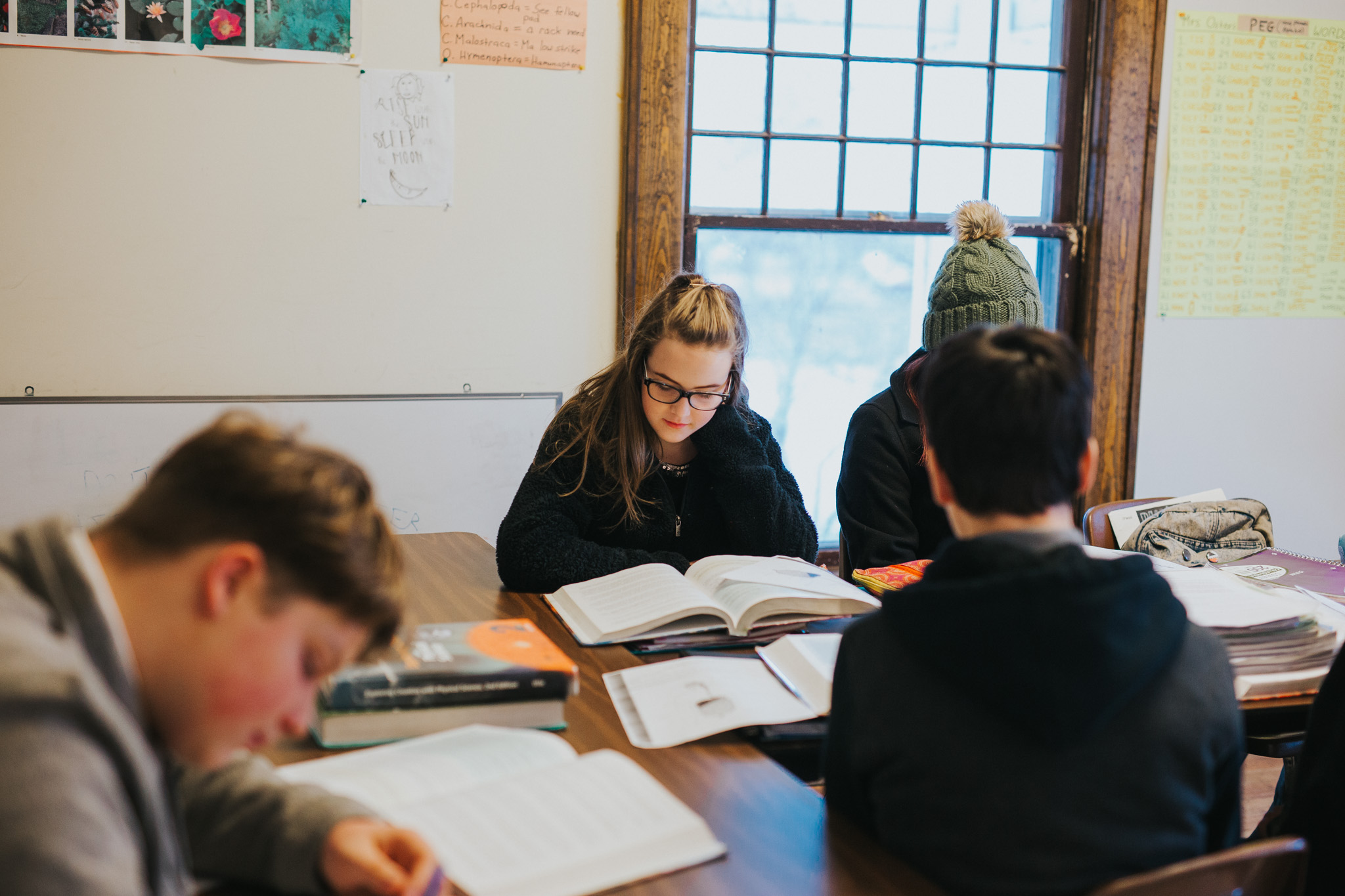 The middle school curriculum at Northfield is built to familiarize students with the fundamental aspects of the subjects they will explore in greater depth in their later years at NFS. This is what we call the grammar stage of the Trivium - the stage in which we learn the facts.
6th
Lit/Comp 1

Math Foundations

General Science

Great Books

Music
7th
Lit/Comp 2

Pre-Algebra

Physical Science

Jewish/Greek History

Great Books
8th
Lit/Comp 3

Algebra 1

Intro to Physics and Chemistry

Roman/Christian History

Latin 1
As the Northfield student progresses in their education, they are challenged not only with knowing the facts of the subjects they study, but also with ordering and relating them through the process of logic. Finally, a Northfield student learns how to critically insert their own voice into the ideas they have been ordering and relating through the logic phase. This final stage of the Trivium is called rhetoric - the capstone of a Northfield student's exercise.
9th
Medieval Literature

Geometry

Biology

Medieval History

Latin 2
10th
European Literature

European History

Chemistry

Latin 3

Friends University Dual Credit Course
11th
American Literature

American History

Economics

Friends University Dual Credit Courses
12th
Classical Rhetoric

American Government

Graduate Project

Friends University Dual Credit Courses
Requirements to Graduate from Northfield
To earn a Northfield Diploma, the following subjects must be completed with at least a 2.0 GPA upon graduation:
Languages: Latin I, II, III or some approved substitute

History: Medieval, European, American

Literature and Composition: Medieval, European, American

Mathematics: Algebra, Geometry

Music: Music Appreciation, 9th -12th grade years (or some approved substitute).

Science: Biology, Chemistry

Electives: Four from a list of Dual Credit Classes at Friends University